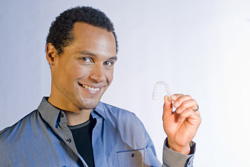 More than 3,000,000 people are smiling brighter thanks to the Invisalign system. See how just a few of their lives have changed with Invisalign.
Patient Testimonials
I always wanted to have straight teeth, but never thought my smile would look this great. Plus, no one even knew when I was wearing them. I couldn't be happier!

At first, I was skeptical about whether or not to use plastic aligners to straighten my teeth, but I am very glad I decided to make the investment. In just about nine months my teeth were straightened using the clear, comfortable, and easy-to-remove aligners. I'm a busy guy, and using Invisalign fit right into my lifestyle.

Everybody comments on my new smile, even when I'm wearing the aligners. Plus, I can remove them at any time, so they don't affect my lifestyle.

Daniel, Age 38, Chauffeur

I definitely smile a lot more. Even though I'm still in treatment, it has given me more confidence. It's given me something to look forward to. I feel good about myself.

Breanna, Age 20, Waitress & Student

What I like best about Invisalign is the fact that I can take them out and floss and brush my teeth and put them back in.

Gina, Age 31, Analyst Relations

I would not have gone the regular braces route because I am in a customer-facing position.

Vivian, Age 53, Nurse

I am absolutely, positively thrilled. The fact that I was done with it in less than a year, and really had no inconveniences whatsoever, makes me wonder why I even hesitated.